Subscribe
Listed Antifreeze is More than Minimum Temperatures
Installation | FAQs | Temperature | fire sprinkler systems
Because the primary purpose of antifreeze is to protect sprinkler systems from cold, contractors tend to only consider the minimum use temperature when selecting a listed antifreeze.
But listings for fire sprinkler antifreezes are so much more than their minimum use temperature. Just like with sprinkler heads, considering all aspects of a product's listing when making your selection will help you achieve the best results.
freezemaster™ antifreeze is UL listed and meets NFPA requirements and is the most widely used listed antifreeze on the market because it:
Has a corrosion inhibitor package that effectively reduces pipe corrosion by up to 65%
Is colored blue so you can see the material as it exits the vents and drains when flushing and filling systems
Does not have a minimum pressure requirement
Is the only antifreeze listed for use in Ordinary Hazard Groups I and II systems up to 375 gallons
And those are just the benefits of the product itself: freezemaster™ antifreeze is backed by Lubrizol and Viking to give you an excellent all-around experience.
Ease of Doing Business with Lubrizol and Viking
Supply chain issues are affecting every industry and country. Choosing a product backed by companies like Lubrizol and Viking give you security of supply and distribution. This means getting product when you need it and at a fair cost.
Lubrizol is a material and chemistry company that leverages its size, core competencies and expertise to maintain access to supply chain, materials and volumes that other suppliers can't access. Due to demand and availability and in preparation for the September 2022 NFPA 25 deadline, Viking Group has expanded supply coverage. freezemaster™ antifreeze is available at any VikingSupplyNet location across the USA, and as of Spring 2022, at most Core & Main locations in the USA.
No Minimum Order Quantities
freezemaster™ antifreeze is available in five-gallon buckets, 55-gallon drums and 275-gallon totes, and you can order as much or as little as you want; Viking requires no minimum order quantities on freezemaster™ antifreeze.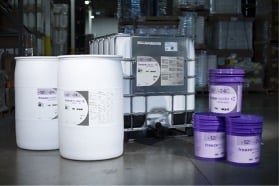 Not only can this save you money, it also reduces waste: Warmer weather areas with fewer freeze protection needs can order the precise amount of freezemaster™ antifreeze required.
Outstanding Service and Support
The 2014 Edition of NFPA 25 requires all antifreeze fire sprinkler systems to be filled with a listed antifreeze no later than September 30, 2022. With the deadline so close, many contractors are likely selecting a listed antifreeze product for the first time. With nearly 60 representatives collectively across the United States, both Lubrizol and Viking Group have an outstanding reputation for customer support and product expertise. Lubrizol's freezemaster™ antifreeze team of field representatives can walk you and your local AHJ through the process of switching to listed antifreeze, address common questions and more.